It's finally starting to feel like fall here in Southern Ontario. We had an unexpected frost on the weekend that made me fear for our still growing garden, but we made it through fairly well. Sarah in Illinois is feeling the coming fall and looking to prolong her garden too. She's here today to talk about how she's trying to store that favourite garden fruit, tomatoes, for as long as possible.
Fall-like temperatures have finally hit Illinois and the cooler weather is a sure sign that the days for getting fresh vegetables from the garden are numbered. I posted earlier that I am learning the ropes of canning, but there are other methods for storing vegetables well after the frost arrives.
When I was choosing the tomatoes that I wanted to plant this year, I had on my list "Long Keeper." Long Keeper is a variety of tomato by Burpee that is supposed to be great for winter storage. I tried to plant some from seed, but I am still struggling with the hardening off process.
A friend provided me with several varieties of tomatoes that she grew from seed, I was excited to discover that one plant was a "Red October" which is another variety of storage tomato.
Thankfully, this plant did very well and had an abundant supply of fruit.
So now that I have all of these tomatoes, what is the best way to store them?
The info I have gathered from several sources has a few things in common.
Store tomatoes so they are not touching.
Store in a cool (but not cold), dry spot.
Check often for spoilage, since one bad tomato can cause the others to spoil quickly.
When I picked the tomatoes to store, I made sure to pick only the healthiest, firmest tomatoes. I figured that if they are already showing signs of over-ripening there was no reason to attempt to store them. I also picked them in varying degrees of ripeness. I am not sure if they will ripen well in the box or not.
Blitz quickly figured out what I was doing and added his red tomato-colored ball to my bucket. Man, it amazes me how smart he is!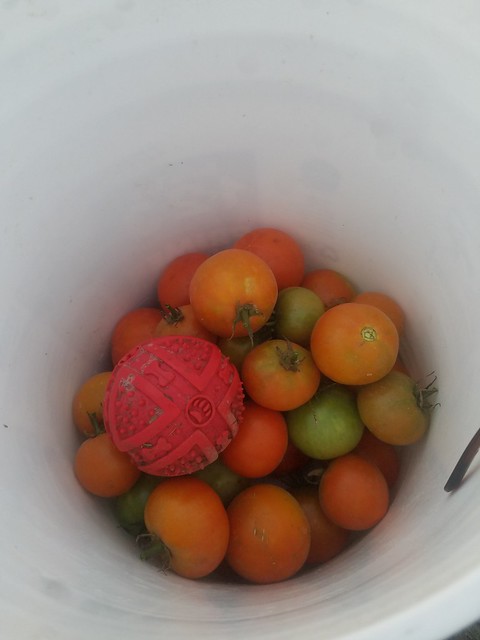 I have a seemingly endless supply of cardboard boxes at work so I picked a shallow box and made a cardboard grid to keep the tomatoes from touching.
To make the grid I cut pieces of cardboard the height of the box (4 inches in this case) and then I cut them the length of the box. Some I cut the length of the short side of the box, and some the longer length. I ended up with 4 longer pieces and 6 shorter pieces. Each box of course will be different and you can adapt it to your needs, but in this case my box was 15 inches by 21 inches. So when I evenly spaced the slats I had 3 inch squares for the tomatoes to sit in.
To get the slats to fit together in a grid I cut slits evenly across each piece. I made sure to cut each slit more than halfway so that the grid fit together nicely.
I was able to fit my slats together fairly easily. None of my measurements were exact so thankfully cardboard is forgiving and I could work everything into place.
Once my grid was in place I was able to fill it with tomatoes.
I have chosen to store the box in the garage attached to our house. This way I can keep a close eye on them to check for spoilage and I know that it will be a while before it freezes out there.
This really is an experiment. I have no idea if I will have garden tomatoes in January, or if they only last into October. So I plan to report back on how it is going and anything I learn along the way.
Have you ever stored tomatoes long term? Any advice for me? Have you ever grown Red October tomatoes?
I feel like this is as good a technique as any, Sarah. I'm curious to see how it works for you.
I received an interesting preserving cookbook last Christmas called Batch, and it talked about how there are so many more preserving techniques than just canning. Cellaring (like what you're doing) and freezing were two additional techniques along with several others (and yes, there's a whole section on tomatoes).
I slow roasted a batch of cherry tomatoes on the weekend. They're super simple to toss in the freezer and then toss onto pizza in the middle of winter. Unfortunately, I got distracted and didn't check them soon enough and they were beyond roasted by the time I pulled them out. I'm still mourning them a bit. But they're in the composter now, so I may have some volunteer tomato plants next year.